Creation Entertainment Remembers Star Trek's Grace Lee Whitney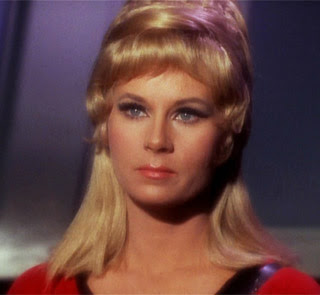 Grace Lee Whitney: April 1, 1930 - May 1, 2015
Creation Entertainment joins Star Trek fans throughout the galaxy in celebration of the life of the amazing Grace Lee Whitney, Star Trek's Janice Rand. Grace lit up our Creation Convention stages for 30 years and was a true Hollywood legend having worked with the likes of Billy Wilder, Billie Holliday, Jack Lemmon and Marilyn Monroe, to say nothing of her enduring role on Star Trek. Grace's story is one of tragedy and triumph and she celebrated decades of sobriety openly with her adoring audiences and behind the scenes on a one on one basis with countless others. More than her show business career it was this that she wanted to be remembered for.
As Star Trek fans it was wonderful to see Gene Roddenberry bring her back into the film family with Star Trek: The Motion Picture and Leonard Nimoy continue with that tradition later on. We were proud to welcome Grace to our 25th Anniversary Star Trek Convention at The Shrine Auditorium which was the last time the entire cast of Star Trek was on stage together along with an appearance of Gene Roddenberry, and when the anniversary was toasted Grace Lee raised a glass of water rather than champagne to honor her successful fight against alcohol.
Last year at our big annual Official Star Trek Convention in Las Vegas, Grace and legendary writer Harlan Ellison took the stage together at his request to recount their long ago relationship that they both fondly recounted offering the packed house a new insight into the lives of two iconic celebrities. Fans at our events loved her as much as we did and she will be forever missed.