Su primer gran papel: hacer de español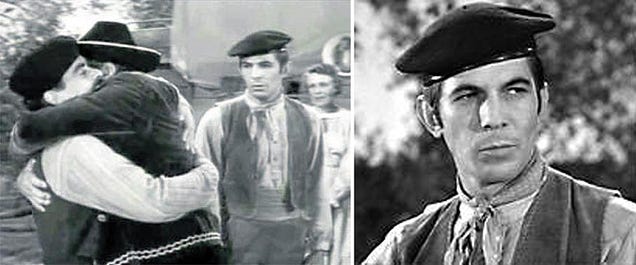 Probablemente Leonard Nimoy podría haber sido de Bilbao a título honorario. Uno de los primeros papeles importantes del joven actor fue en la serie Wagon Train (La caravana), en 1959. El capítulo en el que participó se titulaba "The Story of Estaban Zamora" (sí, Estaban, con a) y en el interpretaba a Bernabé Zamora, un aguerrido pastor peninsular con una boina bien calada. La indumentaria parece vasca, pero tratándose de Hollywood lo mismo puede ser aragonés o extremeño.
Y aprender Español
Cuando terminó el servicio militar, Nimoy volvió a estudiar, y se graduó nada menos que en lengua española. Obtuvo un Master's Degree en nuestro idioma en la Universidad de Antioch, en Austin, Texas. Aparentemente, nunca ejerció una profesión relacionada con ello, pero más tarde le otorgaron el doctorado honorífico.
Un fotógrafo muy particular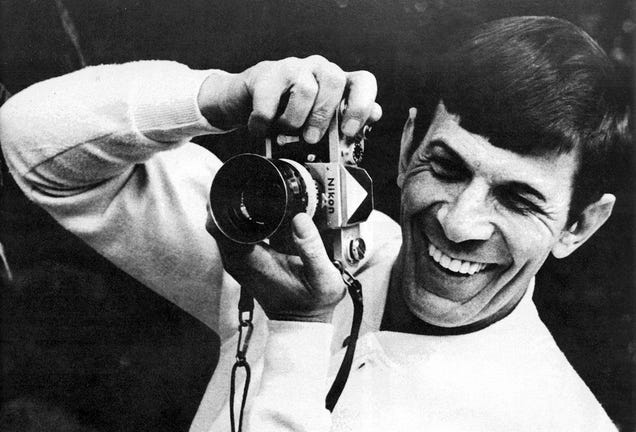 Nimoy siempre fue un apasionado de la fotografía, y especialmente de los retratos. Publicó varios libros como fotógrafo. Uno de los más sonados fue
The Full Body Project
, un libro de desnudos femeninos en el que trataba de reivindicar las proporciones de las mujeres reales frente a la tiranía de las tallas pequeñas que propone el mundo de la moda. Podéis ver algunas imágenes del libro
aquí
.
Los curiosos empleos de Nimoy
Aunque Nimoy siempre ha destacado en los escenarios y nunca se ha separado de la interpretación, ha habido temporadas en las que ha ejercido profesiones bastante particulares. En los años 50, tras el servicio militar, y mientras estudiaba interpretación, fue taxista, camarero en un bar de refrescos y acomodador de cine. En los 70, cuando se canceló Star Trek, abrió una tienda de mascotas exóticas. En una entrevista, Nimoy reconoció que el peor trabajo que había tenido nunca había sido vender periódicos en invierno.
El origen del saludo vulcano
El célebre saludo vulcano levantando la mano con los dedos unidos de una forma tan peculiar en realidad fue creado por el propio Nimoy después de verlo durante una ceremonia judía ortodoxa que presenció cuando era pequeño. El signo representa la letra hebrea
Shin
. El saludo se emitió por primera vez en el capítulo "Amok Time" de la serie de 1967.
Un amante de los animales
El personaje de Spock no respetaba la vida y era un auténtico entusiasta de los tribbles por casualidad. Esa filosofía tiene mucho del propio Nimoy. Como ya adelantábamos arriba, el actor abrió una tienda de animales y siempre tuvo un respetable número de mascotas en casa. Nimoy era también vegetariano.
Inventando el pellizco vulcano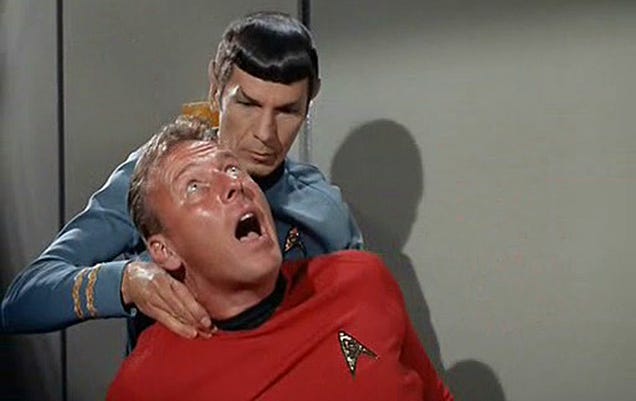 El
pellizco vulcano
o pinza vulcana también fue una aportación de Nimoy. El actor debía dejar inconsciente a Kirk en el episodio
The Enemy Within
, y el guión decía que debía hacerlo deslizándose sigilosamente por detrás y golpeándolo en la cabeza con la culata de un phaser. Nimoy creía que aquello era muy poco propio de un vulcano, así que se le ocurrió la popular maniobra para dejar inconsciente mediante un pellizco en un nervio.
El comunicador de la federación, hecho realidad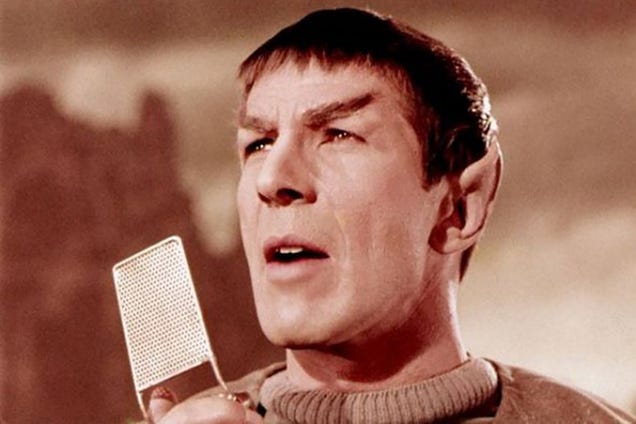 En los 90, el teléfono móvil favorito de Nimoy era un Motorola StarTac. El actor explicaba que a menudo había gente señalándole y sonriendo cuando lo utilizaba, pero no cayó en la cuenta de por qué hasta mucho después. El StarTac estaba inspirado en el comunicador que utilizaba el Comandante Spock en Star Trek. Ver a Nimoy con aquel viejo móvil era como ver a Spock en carne y hueso.
Algo más que un actor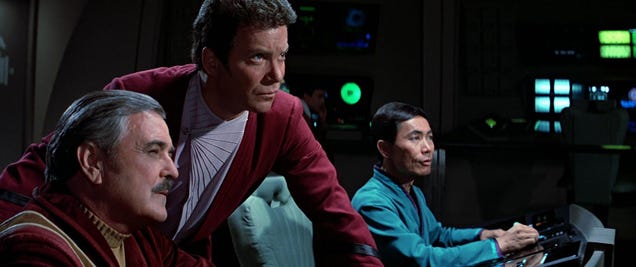 Leonard Nimoy no solo daba vida a Spock. El actor dirigió dos películas de la saga cuyo guión también ayudó a escribir. Se trata de Star Trek III: The Search for Spock (1984) y Star Trek IV: The Voyage Home (1986), En 1991 también fue el productor ejecutivo de Star Trek VI: The Undiscovered Country.
La voz de muchos videojuegos y series
Nimoy era un prolífico actor de doblaje que puso la voz al muñeco de Spock de Big Bang Theory, a la versión animada del personaje en Futurama y Los Simpson, a Sentinel Prime en la película Transformers: Dark of the Moon, y a Galvatron en la película animada de Transformers. También interpretó a narradores y personajes en Civilization o Kingdom Hearts.