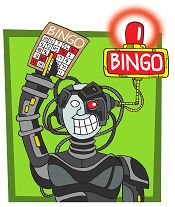 THE RESISTANCE IS FUTILE BORG BINGO PARTY
One of the most fun event of the convention returns and it is time to PARTY! Thursday night is the night and it is a great kick-off for the next three days of fun. It will not conflict with the big dinner part Thursday Night for our Gold Patrons, so don't worry. We'll have finger foods and a complimentary glass of champagne (or apple cider) and we'll also have FOUR Star Trek oriented rounds of "bingo" offering the most incredible prize packages that always thrill. We will have some special celebrity guest callers and who knows what else may happen (there was that year when William Shatner came by and filmed part of his documentary about our convention at the event)!
We promise to really go to town with what the prizes are and in the past have offered upwards of $10,000 worth of prizes! It's a lot of fun and camaraderie and the last bingo round EVERYONE at the winning table wins something, making it extra cool. We have limited attendance on this particular event and tickets have ALWAYS sold out in advance.
source:http: //www.creationent.com/cal/st_lasvegas_events.html
TICKETS FOR THIS SPECIAL EVENT ARE: $139 EACH